Whenever you hear the words "Dead Mall" you might not know exactly what is being talked about. Some people, however, take huge interest in the American phenomenon of dead malls. I became interested in this topic a couple of years ago when I visited one of the largest dead malls in the world:  Forest Fair Mall in Forest Park, Ohio.  
In 1989 Forest Fair was a sprawling glory with its high-end department stores including Bonwit Teller and B. Altman. However, not everything worked out for Forest Fair as many consider the mall a failure from the start and George Herscu of L.J. Hooker filed for chapter 11 bankruptcy and was later arrested in Australia for bribery charges where he was  sentenced to five years in prison and wound up losing his fortune worth over $500 million. Herscu originally wanted to make a discount-oriented mall in Cincinnati near Forest Park, however that wasn't enough for him because he believed he could draw in business from all over Ohio and added high-end department stores that no one in the Cincinnati area had ever heard of. Thus when Forest Fair opened it was a retail mess containing high-end department stores on one end and a value wing on the other end of the mall with Bigg's as the anchor tenant.
George Herscu refused to acknowledge all the flack his investors and consultants were giving him and said "If I'm successful, they'll think, Oh, what a great man! If I fail, they'll say, Oh what a damn fool!" What's interesting is that Forest Fair was built in the wrong place at the wrong time to begin with. "Lance" worked at Forest Fair from 1997-1999. He worked as a security guard at Parisians which was one of the last high-end department stores until Bass Pro Shop later replaced it as part of the mall's redevelopment plan from 1996 when the mall was purchased by Gator Forest Park Partners. This company had made a few improvements to the mall including adding in Guitar Center, Bass Pro Shop, the now defunct Media Play, and Saks Off Fifth. However, the mall was purchased again in 2002 when the Mills Corporation bought it to yet again redevelop it. Afterward the mall was closed for over a year for a renovation that cost the Mills Corporation a whopping 70 Million to complete. Forest Fair then became Cincinnati Mills in 2004. The massive mall then reopened, but many of the storefronts were fly-by-night tenants which lead to the mall seeing initial success, but later falling apart again. The mall contained many big box stores including a full-service Starbucks and Johnny Rockets, along with big stores such as American Eagle, Steve and Berries, and Johnny's Toys, which soon went out of business.
However, things really fell apart as Media Play closed in 2005 and the space has since remained vacant. In fact most of the tenants decided to vacate and the plan that Cincinnati Mills had set out to accomplish failed.  A desperate sale was made to the Simon Corporation in 2007, but by 2009 the mall was 40% vacant.  Since then the mall has pretty much remained in limbo as another sale hasn't been made and the mall is still open with fewer than 5 stores.  Here's what "Lance" had to say:
Q: "Thanks for letting me conduct this interview, so let's start with a simple question. What years did you work at Forest Fair Mall."
A: "I worked at Forest Fair from around 1997-1999 in security for Parisians."
Q: "So was the mall better than it is in it's current state or was the mall already in limbo back in the 90's."
A: "Yes while I was working there the mall felt empty and I knew it was falling apart."
Q: What about the revitalization of the mall in 2004, are you surprised that the mall still fell apart."
A: "Oh no, all they sold was a bunch of junk there when it briefly made a comeback and I knew it wouldn't last long."
Q: "So according to some sources the mall was a generally an unsafe place and in the early 90's the place had reportedly had problems with robberies, gangs, and violence, is this true."
A: "Oh yes, even when I was working there that's very true and there were times when I felt unsafe alone walking around."
Q:  "So what about the people you worked with."
A: "There was one guy at Parisians who had a job simply just deciding what looked good on people and what looked appealing to people, since the clientele was awful Parisians left."
Q: "What about the future of retail, how's that going to play out."
A: "Well Forest Fair came at a weird time when malls were on the verge of being overcrowded in the retail market and because of the malls awkward setup from economy stores to high end stores, I didn't think it would last at all, but at the same time there's no point in shopping at malls anymore when I can just buy anything off Amazon or Ebay."
Q: "I'm going to show you some pictures I took at a recent trip with a friend to Forest Fair and I'm going to ask if you're surprised at all if this is the current state of Forest Fair."
A: "No I'm not surprised at all by this, as a matter of fact that's exactly how I remember it except without all the stores or shoppers."
Q: "Thanks for the interview and are there any other comments you want to make."
A: "Yes I think that the mall was destined to fail and don't get me wrong it was absolutely incredible when it first opened and I'm telling you it was the greatest looking mall I've ever seen. The problem was that it was very short-lived because it was built in the wrong place at the wrong time and since it used both high end and low end economy shops, everything fell apart quickly and the original owner went bankrupt."
Q: "That's interesting I've even heard rumors that the original food court was two stories and the second story was lit on fire from possible arson, can you confirm or deny that this ever happened sometime around 1993 or 1994."
A: "There were two stories to the food court at one time or another, but I don't remember seeing anything about arson, I'm not denying that it ever happened but I just don't remember."
Q: "What about the clientele, did you have to deal with a lot of shoplifting."
A: Oh yes often, I remember robberies and especially I remember people that would come in from a bus route to the mall from Forest Park and whenever you'd look away they'd steal something and be gone before you realized what was gone."
Editor's Note:  Many malls in America are considered "dead" and these corpse buildings symbolize the socio-economic decline of once burgeoning suburbs.  Viceland's show "Abandoned" focused on Northeast, Ohio as a "mecca" of ghost malls.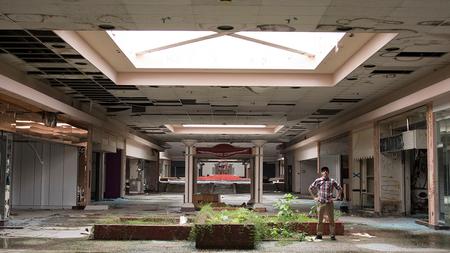 Still from "Ghost Malls" on Viceland's "Abandoned"